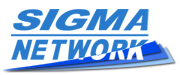 The Plixer Platform
Plixer's distinct approach to providing a single platform for network security and monitoring delivers the insight and analytics needed to manage the immense opportunities and risks of your digital business. The system quickly delivers the forensic data needed to support fast and efficient incident response. Thousands of organizations rely on Plixer solutions to keep their IT infrastructure running efficiently.
FlowPro
Plixer FlowPro probes support application performance management as well as defender capabilities for monitoring DNS traffic. From a single probe, network operations can efficiently manage and optimize the network, while security operations are able to simultaneously lower risk, gain data context, and respond quickly to security incidents.
Scrutinizer
Plixer Scrutinizer, Plixer's network traffic analysis system, collects, analyzes, visualizes, and reports on data from every network conversation and digital transaction to deliver security and network intelligence. It provides the insight and historical data needed to manage and optimize business operations while reducing risk by detecting and remediating incidents.
Replicator
Plixer Replicator aggregates, replicates, and distributes flow and log metadata exported from the existing network across multiple monitoring tools like SIEM, syslog, and flow collectors. This improves the value of the data while dramatically simplifying adds, moves, and changes and protecting the CPU of exporting switches, routers, firewalls, etc.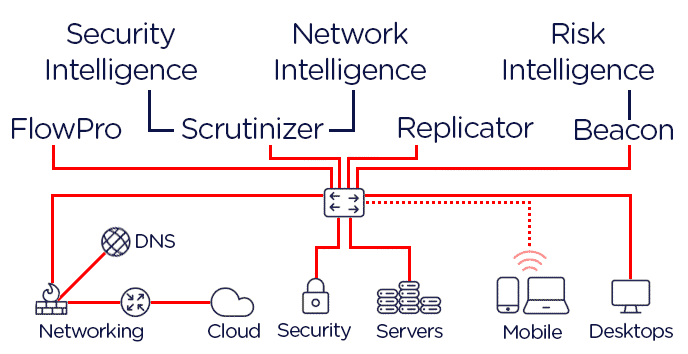 Beacon
Plixer Beacon provides deep visibility and tight control over network endpoints (PCs, mobile devices, VMs, IoT endpoints, etc.), helping you efficiently track assets, strengthen security and compliance, and mitigate risk. With Plixer Beacon, you gain real-time insights into device identity, location, and behavioral data.
Security Intelligence
Plixer Security Intelligence consumes and analyzes streamed metadata from Plixer Scrutinizer, dynamically combing massive volumes of machine-generated data and automating the detection and remediation of advanced persistent threats. It embeds the very latest in ML/AI technology and applies a crisp use-case-driven implementation that delivers real, trustworthy results in milliseconds.
Network Intelligence
Through the addition of Plixer Network Intelligence, powered by advanced machine learning (ML), network teams can precisely predict future network capacity requirements. In addition, network operation functions get automated, investigative workflows are improved, network traffic data is exported to external data lakes, and workflows seamlessly integrate with ServiceNow.
Risk Intelligence
Plixer Risk Intelligence add-on for Plixer Beacon helps you easily evaluate endpoint risks, isolate vulnerable devices, and mitigate threats. The product assesses endpoint risk in real-time, providing a collective risk score for the entire network and individual scores for specific endpoints.
What can Scrutinizer do for you
With its massively scalable metadata collection, visualization, analysis, reporting and response, Plixer Scrutinizer will make possible to:
> Reduce security risks

> Support fast time-to-resolution

> Deliver contextual forensics

> Proactive thresholds and alarming

> Enrich data context of network traffic

> Increase efficiency and reduce cost

> Monitor network and application performance

> Achieve fast reporting and massive scale

Please accept YouTube cookies to play this video. By accepting you will be accessing content from YouTube, a service provided by an external third party.
If you accept this notice, your choice will be saved and the page will refresh.