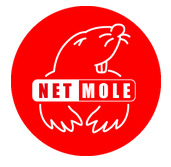 NETMOLE
The SIGMA Network Solution for All-things monitoring
The NetMole solution allows you to monitor 24 hours a day, 7 days a week, 365 days a year, all devices, associated services and application code, and sends emails on the status of each monitored item.
It also has an online portal where it is possible to consult all this information and obtain different types of graphs and statistics.
What is NetMole?
By integrating leading products in the monitoring market, the NetMole solution allows preventive action and allows you to identify problems that may arise in the network (for example: memory saturation, hard disk, processor, low application execution speed, end user experience, percentage of growth of stored data, and among other things, bandwidth occupation, network protocols and mobile communication protocols 3G / 4G and LTE, etc.) thus avoiding the interruption of services, and the fault of systems.
NetMole, a novelty in the landscape of monitoring services
NetMole monitors the systems and associated services and all that refers to the IT infrastructure 24 hours a day, 365 days a year, and can notify you via email or SMS to be informed about the status of the devices. In addition, it has an online portal, where you can see all the information and get different types of graphs and statistics on the monitored devices and services. When a service reaches the WARNING or CRITICAL threshold, an email or an SMS is sent as well as if the service returns to its normal state (OK). In the same way, when a device is DOWN (Not Operational) NelMole will send an email, even when the status returns to UP (Operational).
Legacy Monitoring
NetMole provides classic Nagios-based monitoring solutions for any object that has an IP. It will be possible to monitor every value and metric through scripts already on board or by writing new custom, all to achieve that absolute and tailor-made control essential for every IT admin, as regards monitoring, alerting and reporting.
Traffic Anlysis
When Legacy monitoring is no longer enough, there is a need to deepen the analysis. How to understand what goes, second by second, in your network? NetMole responds to the call and offers tools capable of recording every single network transaction, the "who, how, when", protocols and applications involved.
Inventory and Management
Every Company, no matter how big or small, is strictly linked to the correct functioning of the network, LAN and WAN. Therefore, it is essential to manage and maintain the network devices that make up the beating heart. Netmole allows you to configure, manage, monitor from A to Z all network devices, regardless of brands, in a single tool.
Experience and Know-How
The strength of Netmole is the experience gained in the field over the years and the international Partnerships that allow a varied and tailor-made offer to meet every need regarding Network Monitoring and Management.